Crowdfunding is a simple process of raising funds for a startup business, or any other project or venture. As the name suggests, it enables fundraisers to raise money from many online platforms. It enables fundraisers to interact with the crowd to make financial pledges. Startups can choose various platforms to crowdfund and support their innovative ideas, and persuading the network to garner more reach can be a brilliant idea.
What is Crowdfunding
It is a form of crowdsourcing and an alternative source of finance. It is an innovative and collective effort to raise capital from many people to support funding for a project or venture. It helps harness the power of social networks and leverage opportunities for effective fundraising.
How Does Crowdfunding Work in India?
Identify the goal and the amount you want to raise and choose the appropriate crowdfunding platforms to raise funds for your project.

It is essential to consider the platform's transaction fees, hosting fees, and other fees while facilitating donations for your projects.

Determine the duration of the fundraising campaign; the objectives of the fundraising campaign need to be understood by the audience as to why they should donate to your business ideas.

Make the potential investor or donor feel invested in your ideas. Make them understand how your product ideas stand out among others.

Update your campaign with details of various funds, donations, and every milestone. These points give a brief on how to run a successful crowdfunding campaign.
What are the Types of Crowdfunding in India?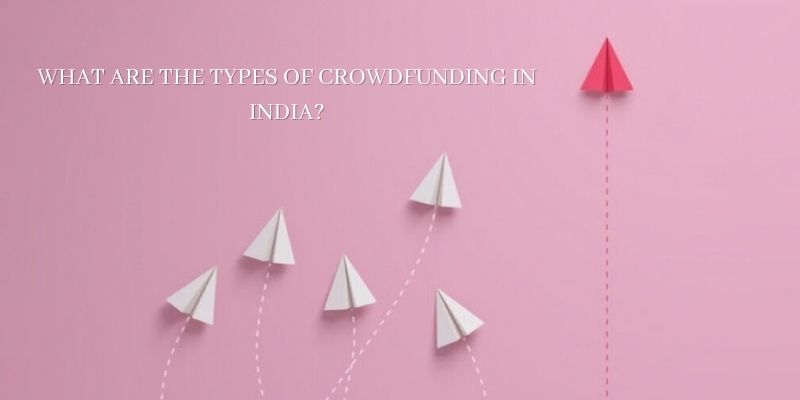 1. Donation-based crowdfunding – It is gaining traction in the market successfully. This type of crowdfunding is basically for nonprofits. It is known for spreading awareness. It supports various countless social causes. They are widely used to raise funds for a startup, online fundraising for numerous social causes, and grants for businesses and corporations.
Joint initiatives for funding include natural calamities, disaster relief, and social charities. It helps to raise funds without giving a second thought and helps the lives of the needy. The various platforms include Kickstarter and IndieGoGo for donation-based crowdfunding.
2. Reward-based crowdfunding – Funds promote research software development where investors expect a positive outcome from the projects. It might sound lucrative for the investors or donors as they might receive something interesting out of it. The rewards given to the donors must depend on their contributions. It works well with the B2C model. The donors are rewarded and given recognition on the campaign's website.
3. Debt-based crowdfunding is known as peer-to-peer lending (P2P lending), marketplace lending, or crowdlending. The funds raised through this method are debts that the borrower needs to pay with interest. It is an alternative to the various conventional borrowing mediums. It has comparatively less interest when compared to banks or other lending institutions. It is one of the effective methods to raise funds for startups. The repayment is flexible for borrowers.
Rules of Crowdfunding in India
SEBI in India governs crowdfunding. SEBI has placed certain restrictions on companies performing a specific fundraising method. SEBI regulates the securities market in India. It has set several guidelines or restrictions governing fundraising. Online fundraising is legal in India, and these are the basic guidelines for performing fundraising activities in India.
Companies must be incorporated under the Companies Act and have a net worth of 20 crores.

Eligible retail investors with a minimum net worth of 2 crores can perform the above-said activities.

A company intending to raise capital should not exceed the maximum limit of 10 crores in a period of 12 months.
History of Crowdfunding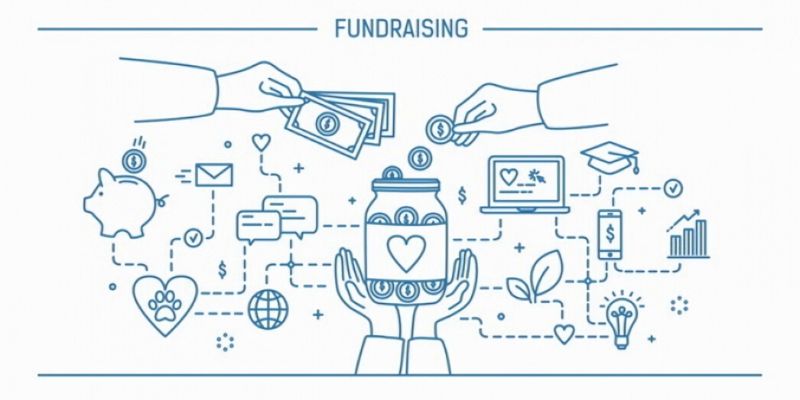 Undoubtedly, crowdfunding is a profound way of raising funds for various projects or startups. However, online fundraising is new to a country like India. In the early 2000s, various crowdfunding platforms started evolving.
One such platform was Kickstarter in India. Crowdfunding history dates back to several centuries, and various crowdfunding platforms and activities became famous.
In the late 2000s, large funders started investing in equity for startups and lending. Later, there was an expansion of the funding of several public and social projects on various platforms. The end of the decade saw the reward model of crowdfunding growing in various sites like IndieGogo and Kickstarter. There was an expansion of crowdfunding in the creative industries as well.
Advantages of Crowdfunding Platforms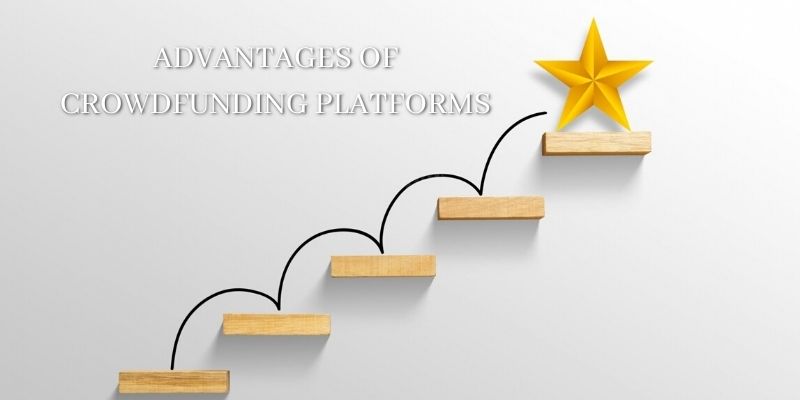 There are several benefits that crowdfunding offers to entrepreneurs for funding their startups, projects which are as follows:
It provides access to capital – It is one of the significant benefits of crowdfunding as it helps raise capital from venture capitalists, banks accredited investors for startup ideas. It is an excellent alternative for funding a venture without giving up on equity. Various crowdfunding types help redeem various benefits or rewards. It enables you to multiply your reach and access various accredited investors.
It serves as a marketing tool – An active crowdfunding campaign enables you to introduce your venture's vision and mission statements or objectives. It helps present your venture's unique selling propositions, history, or offerings to the market. You can share your campaigns on various social media channels, emails, newsletters, and other marketing tactics. It helps drive more relevant traffic to the website and enhances your fundraising activities.
Gives proof of concept – Presenting your business idea or objective to the masses affords numerous opportunities to enhance your fundraising activities. It helps to refine and validate your offerings. It will help to enhance the credibility and trust in your venture offerings.
It helps to enhance efficiency – It helps centralize and streamline various fundraising efforts. It helps build a comprehensive profile for prospective investors in a much more accessible way. It helps to garner the attention of the prospects, who are the early adopters of the business who support the contribution made towards the venture.
It is easier compared to traditional applications – Thankfully, the process of crowdfunding is comparatively more accessible and more effective compared to traditional applications of fundraising. It enables entrepreneurs to choose the appropriate crowdfunding platforms, the objectives, and the duration of running the campaign. Choosing the platform that best suits the campaign theme's purpose is essential.
Crowdwave Trust – The best Crowdfunding platform
Crowdwave is an effective crowdfunding platform that enables various organizations to spread awareness and raise funds for various social causes. We offer 100% secured payment gateways for donors to make effortless transactions. We help companies host an array of events and enhance fundraising activities for their projects.
Why choose Crowd Wave
We enable organizations to create effectively competent crowdfunding campaigns that help to increase the awareness of social causes and increase the number of fundraising options.

We aim to make crowdfunding a straightforward and transparent process to improve the outreach towards the right community that supports fundraising activities.

We have made an impact and created a difference in terms of raising INR 1 crore in funds for various NGOs and organisations

We enable companies to raise funds in an effortless manner, for all causes, and fundraising activities, helping them to gain a better advantage
Conclusion
Crowdfunding is a low-risk and rewarding alternative to fundraising activities for startups, projects, or any other social cause. Create a compelling crowdfunding campaign to resonate with people and enhance fundraising activities. Use all available social media platforms for marketing your campaign theme or purpose. We hope the above-listed points gave you a brief about everything you need for crowdfunding in India.